Donation helps veteran's charity purchase much needed camping equipment
A camp cot, three tents and four sleeping bags can all be bought by a local veterans' charity thanks to a donation from a regional co-operative.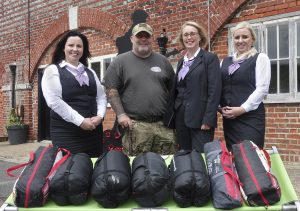 A £500 donation from The Co-operative Funeralcare in Eastney was made to Forgotten Veterans UK to help with its Basha Project – a veterans' residential retreat located at Fort Cumberland in Portsmouth.
The retreat enables some respite from daily life and gives camp-goers the chance to enjoy spending time in the company of other veterans, many of whom are on their own journey dealing with various mental health problems.
The funding application was originally made by Pastor Chris Thomas from Eastney Evangelical Church, a Royal Navy veteran, after visiting the charity and seeing for himself the work that they do.
Colleagues from The Co-operative Funeralcare, part of the regional, independent co-operative – Southern Co-op, were equally as impressed when they visited Fort Cumberland to see the work of the charity at first hand.
The CEO, Gary Weaving, gave them a tour around the facilities and they had an opportunity to talk with some of the veterans at the Basha camp.
Forgotten Veterans UK recently held its Basha camp on at the fort with more than 20 veterans attending.
Forgotten Veterans UK was setup in November 2017, and the Basha Retreat officially opened on 26 November 2018 after several months of work on the casement building at Fort Cumberland in Portsmouth. The majority of those working at the FVUK are military veterans, and all are unpaid volunteers.
To find out more about the charity, visit www.forgottenveteransuk.com/basha-retreat.
The donation to the charity was made as part of Southern Co-op's community engagement programme 'Love Your Neighbourhood' which addresses four key social themes – promoting 'Greener', 'Healthier', 'Safer', and 'More Inclusive' neighbourhoods.
Click here to find out more about Southern Co-op's commitment to making a difference.