Donation made to remarkable Island community social group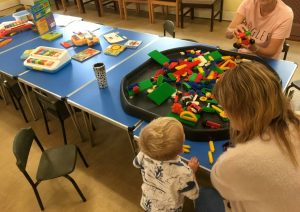 A parent and toddler group that has been running in Newport for nearly 40 years has been given a special boost from local co-operative colleagues.
A total of £500 has been donated to Chatterbox Mother and Toddlers group by The Co-operative Funeralcare in Newport to help with new tables used for crafting and break times.
The group is held at St John's Church Hall and has been bringing parents and toddlers together for essential social time for more than four decades.
Andy Martindale, Funeral Co-ordinator at the Newport funeral branch in Cranbourn Rest, said: "It is groups like these which bring our community together and makes it a really connected place to be a part of. This particular group is aimed at parents who would otherwise not get to mix often so being able to support them is really special.
"Being part of Southern Co-op – the independent, regional co-operative, we do our best to support our local community. It is a privilege to support projects like this. We hope it will continue to provide a place for parents and their children for years to come."
The donation has been spent on replacing tables at the centre which are used for crafts, reading and snack times.
One of the first uses was to make a thank you card which was gratefully received by Andy and Fliss Glover, also a Funeral Co-ordinator at the Newport branch.
Harry Walker, Chatterbox Volunteer, said: "Thank you so much for the generous donation of £500 towards new tables and a carrier for Chatterbox Mother and Toddlers group. All those attending were thrilled with them.
"We are grateful for the support and partnership of The Co-operative Funeralcare towards this well attended community activity that continues to meet every Monday during term time after 38 years."
The group meets on Mondays from 9.30am to 11.30am during term time. Anyone can make contact via church admin office 01983522972 for more details or look on www.stjohnsnewport.org.
Southern Co-op's community engagement programme 'Love Your Neighbourhood' aims to make neighbourhoods greener, healthier, safer and/or more inclusive.
Click here to find out more about Southern Co-op's commitment to making a difference.