Come and 'bee' entertained in Uckfield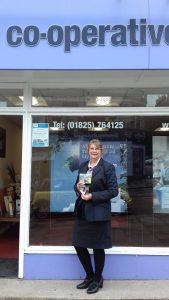 There will be a buzz about Uckfield in August as a local allotment bee club is coming to town.
Everyone is invited to the bee event being held at The Co-operative Funeralcare in Uckfield on Friday 30 August.
There will be local honey for sale, a raffle and a children's lucky dip.
Plus there will be a working bee hive demonstration without the risk of being stung as it will be completely enclosed.
Jan Pink, Funeral Co-ordinator, said: "Our branch is part of the regional co-operative – Southern Co-op – which actually has its own bee hives in Havant. It is all part of our wider commitment to the environment.
"Bees are such an important part of everyday life and we wanted to hold an event to celebrate our busy little friends. Everyone is invited to come and see what bees do to make lovely honey."
The event is taking place on Friday 30 August from 12pm to 2pm at the branch in High Street, Uckfield.
Any money raised will be donated to The Uckfield Allotment Bee Club which is raising money to buy a much needed new bee hive.
David Davies, Treasurer of Uckfield Allotment Bee Club, said: "With several members of the local allotment association showing an interest in bee keeping, we have now obtained a site near to our allotments and have generated enough interest to start our own bee club.
"We hope not only to produce our own honey for sale, but also to help with the pollination of plants and to promote the value of honey bees.
"By bringing the concept of bee keeping and its benefits to the public, local schools and businesses attention, we hope that this will make people interested to learn more about keeping bees.
"We are committed in encouraging insects and wildlife to move into the area and take up permanent residence to establish a healthy Eco System for the long term good of the environment."
To find out more, contact The Co-operative Funeralcare in Uckfield on 01825 764125 or via email UckfieldFuneral@southerncoops.co.uk.
To find out more about Southern Co-op's commitment to making a difference, click here.