Gratitude for Adur hub is demonstrated through donations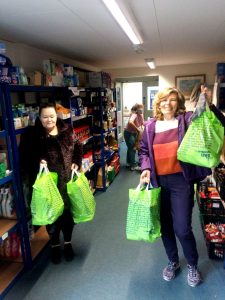 Hundreds of everyday essentials have been donated to a Shoreham hub – including nearly 500 rolls of toilet paper – to say thank you for making a difference to Adur residents' lives.
The weekend delivery to The Gateway Hub in Shoreham included £1,100 worth of food, household products, baby essentials and personal care goods donated from a Southern Co-op funeral care branch.
Shoreham Funeral Co-ordinator Gill Flowers, who arranged the donation, also got to help with an urgent delivery to a family needing baby powder and nappies on her way home.
The donation from The Co-operative Funeralcare with Caring Lady Funeral Directors in Shoreham, will go to help local residents in the Adur community affected by the pandemic.
Debs Stainforth, Co-Chairman at The Gateway Hub, said: "At the start of the pandemic our community pulled together to co-ordinate mutual aid – neighbours helping neighbours. We were then given a space by Shoreham Academy – The Gateway Hub and we are here for everyone in the Adur community who needs support.
"As a community group we rely on people's donations – and the massive donation of food from Southern Co-op this weekend will make so much difference to people whose income has been affected, jobs lost, pay cut, or having a child and not working due to Covid.
"We have a lot of families and older people who are down to their last tin of beans and are very anxious about food and warmth this cold winter."
The Gateway Hub helps with food, holiday lunches, kids' clothes and uniform, befriending isolated people, baby needs, referrals to the Citizens Advice Bureaux, housing help, shopping and prescriptions.
The hub is appealing for help with funding donations which will enable them to buy grocery vouchers and put money on people's gas and electricity meters.
Gill Flowers said: "We helped to unload hundreds of items at the weekend as well as several bags filled with goods from our sister retail store – The Co-operative Food in Western Road, Hove.
"The pandemic has had such an awful impact on us all in one way or another. It was a really awesome opportunity to see first hand how we have helped our local community and it's so lovely to be able to help in such a practical way. With this being such a small individual cause it will make such a big difference to our local community."
The donation was made as part of the regional co-operative's 'Love Your Neighbourhood' programme which aims to create greener, safer, healthier or more inclusive neighbourhoods.
To find out more about Southern Co-op and Love Your Neighbourhood, visit www.thesouthernco-operative.co.uk/love-your-neighbourhood/.