£1,000 donated to special Frimley Green cause
A support service for autistic children and their families in Frimley Green has been gifted with a donation of £1,000.
To celebrate its recent opening, colleagues at the new Co-operative Funeralcare branch in Wharf Road, Frimley Green, held a special open day on Thursday 9 May.
The event included a raffle to raise funds for the local charity Mustard Seed Autism Trust as well as the surprise donation.
Lorraine Paice, Funeral Co-ordinator at the branch which is part of Southern Co-op – a regional, independent co-operative, said: "It wasn't long after we opened back in January, that I started speaking to Sarah at Mustard Seed Autism Trust.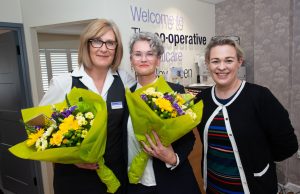 "I was really impressed by everything they do for our local families and knew I wanted to do something to support them.
"Being part of Southern Co-op means we are able to support our local community through our community engagement programme – Love Your Neighbourhood. It is wonderful to be able to assist the trust to reduce the waiting times and help families to get such valuable support."
Mustard Seed Autism Trust was set up in 2011 to meet the needs of autistic children and their families in the local community. Its work involves communication and social skills work, anxiety management, sensory and motor skills development and training for parents.
Supporting the whole family is a key element of the service as the team focuses on empowering parents to meet their children's needs. It also runs a monthly sibling support group.
Sarah Clements, Co-founder and Specialist Teacher at the trust, said: "In the first couple of years we supported about 15 children per year, we now work with around 100 families. We are working to secure funding to increase our team to enable us to reduce the waiting time for families.
"In March 2018 we made the difficult decision to close our waiting list to new referrals as families were waiting over a year for our service. We re-opened it in March this year and have already received 65 new referrals in six weeks! So funding to increase our staff team to enable us to meet the needs of our local autism community is our key focus.
"As a small independent charity our funding comes from grants, donations, professional training that we provide to local schools and organisations and fundraising events. All donations are hugely appreciated!"
For more information on the funeral home and the services available, click here.