Gifts gathered in Shaftesbury for children's hospital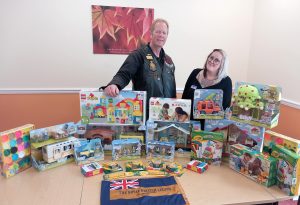 An unlikely trio of an armed forces charity, motorbikers, and a funeral director have combined their strengths to make sure children in hospital get some extra special toys this Christmas.
Dan Skinner, one of our Funeral Service Operatives based in Shaftesbury, is currently rallying the troops to take part in a toy run to Dorset County Hospital on Saturday 16 December.
The idea was kicked off at his local meeting of the Royal British Legion Riders and he has already secured £500 of donations from Southern Co-op which runs The Co-operative Funeralcare – Shaftesbury.
The donations will be made to the Kingfisher Ward which is for children and young people aged 0 to 17 years. It has 17 inpatient beds for a variety of specialities and Dan wants to make sure the ward is filled with gifts that all the children can enjoy.
Dan said: "I am currently trying to bring together as many people as I can muster. The more involvement, the more donations and the more the children will benefit.
"The hospital staff have sent me a list of items they would be very grateful for so this donation will make a great difference. I was really taken aback with the quantity of toys donated, it's really generous.
"We have approached other motorcycle groups as well so I hope we'll have a good attendance, the idea being that everyone brings something to donate."
The Royal British Legion Riders branch exists primarily to support the poppy appeal but will also lend a hand in the community when they are able.
But it's not just charity work that they get involved in. Dan fondly remembers him and his fellow bikers taking part in a surprise birthday visit to a nursing home for a gentleman in his nineties who loved his fast cars and motorcycles.
Dan said: "The nursing home had organised an ice cream van and the sun shone. It really made his day.
"We also do a lot of funeral escorts as well, at the request of families, mostly for veterans who have passed away."
To find out more about the Dorset branch of the Royal British Legion Riders, visit www.facebook.com/RBLRDorset/ or email dorset@riders-mail.com.