Community Chest given a surprise donation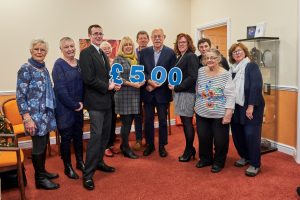 A charity shop set up to help keep its village bright and appealing has been given a £500 donation to mark a funeral home's one year anniversary.
Volunteers at Sturminster's Community Chest Charity shop were invited to enjoy some mulled wine and mince pies at The Co-operative Funeralcare as a way of saying thank you.
One of the funeral co-ordinators in Sturminster, Gay Wilson, has been volunteering at the Community Chest Charity shop over the last few months and felt they deserved some recognition for their hard work.
The donation was kept as a surprise and presented to the volunteers at The Co-operative Funeralcare's one year anniversary on 10 December 2019.
Gay Wilson said: "Since the branch opened a year ago, we have been spreading the message that we are more than just a funeral home. We are part of Southern Co-op – the regional, independent co-operative – so we are a part of the community.
"Over the last few months, I have been volunteering at the Community Chest Charity shop so know how hard the volunteers work. It is lovely to be able to thank them at our anniversary event!"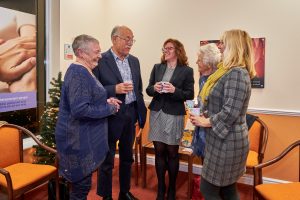 The Community Chest, which comes under the umbrella of Sturminster Newton Economic Development Society, is a community venture set up to help maintain Sturminster's reputation as a great place to live, work and play.
All profits from the shop are used to support initiatives to keep the town bright and interesting, encouraging residents to stay and tourists to visit.
Cheryl Basten, Community Chest Manager, said: "I would just like to say a huge thank you to The Co-operative Funeralcare colleagues for their very kind donation and the recognition of our very hard working and committed volunteers.
"We have had an amazing year, with great support from the community and are now seeing the fruits of our labour with projects that are enhancing our environment.
"We have a suggestion box in the shop so if there is something you are passionate about and would like to be considered for funding then please pop into our lovely little shop."
The Co-operative Funeralcare in Sturminster is part of the regional, independent co-operative, Southern Co-op, which encourages volunteering and donations as part of its community engagement programme.
The Love Your Neighbourhood initiative addresses four key social themes – promoting greener, healthier, safer, and more inclusive neighbourhoods.
To find out more email SturminsterFuneral@southerncoops.co.uk, call 01258 472073 or visit the branch at 4 Market House, Station Road, Sturminster Newton, DT10 1FG.