Dementia residents find comfort in realistic baby dolls
Two life-like dolls have found a new home at a care home in Warminster to help assist residents with dementia.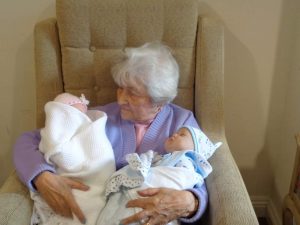 Residents at Ashwood Care Centre can now care for the babies as part of doll therapy – a way to ease anxiety and bring joy to people living with dementia.
The donation was made by funeral co-ordinators at The Co-operative Funeralcare in Warminster after they had heard about the benefits.
Michelle Meadows, Funeral Co-ordinator, said: "I'd seen something on the news about someone who had these dolls and went around visiting the nursing homes with them.
"Staff at Ashwood Care Centre already had a couple of non-lifelike dolls which they were using for doll therapy so they already knew the benefits."
Michelle and her colleague Tess Gibson decided to hold a raffle in the centre's coffee shop which raised £174 – enough for two dolls as well as craft supplies.
Michelle said: "When we went around the care centre with the new dolls, we met a woman who was non-verbal. They gave her the doll and her face lit up.
"She instantly started rocking this baby. Just to see that moment was lovely. It gives them a sense of control back. They also use it to calm people. It made the fundraising effort worthwhile."
The dolls are weighted and now have their own cots to sleep in to make it even more realistic for the residents.
Sarah Camburn, Deputy Manager at Ashwood Care Centre, said: "The Warminster Co-operative Funeralcare kindly raised money for what was meant to be one Reborn Doll but we ended getting two, which was fantastic.
"The dolls have been received really well. Both female and male residents enjoy holding the babies. They are very therapeutic.
"The residents with dementia have been able to express their feelings through holding the dolls and sharing stories with our care staff. Some of the residents just like to sit quietly and hold them. They have been a success and will continue to be so."
The raffle was held as part of Southern Co-op's community engagement programme 'Love Your Neighbourhood' as The Co-operative Funeralcare in Westminster is part of the local, independent co-operative.
The initiative addresses four key social themes for promoting 'Greener', 'Healthier', 'Safer', and 'More Inclusive' neighbourhoods.
To find out more about Southern Co-op's commitment to making a difference, click here.