Donation helps a mother's campaign to get people talking about drugs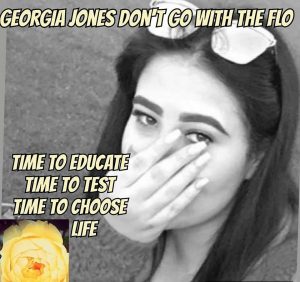 A mother, whose daughter tragically died after taking drugs at a festival, has high hopes for the new year as a financial boost will allow her to continue spreading her important message.
Since she lost her daughter in 2018, Janine Milburn has been working hard to get more people talking about drugs in a bid that others' lives might be saved.
Janine, who works full time at a care home near Chichester, has spent the last year talking at various groups about her campaign 'Georgia Jones Don't Go With The Flo' which looks at harm reduction and related topics such as peer pressure in teenagers.
She wants to keep these talks free and available to everyone but she is reliant on donations and has just received £500 from The Co-operative Funeralcare in Leigh Park.
Tracy Newman, Funeral Co-ordinator at the branch which is part of Southern Co-op, said: "Janine is an incredibly inspiring woman and she is so dedicated to what she is doing. My colleague Rachel Cast supported her with her daughter's funeral and we've followed her campaign over the last year.
"We hope the donation will enable her to continue spreading important information about drugs. If just one life is saved then it has been worth it."
Janine recently spoke at Hayling College and said the response from pupils and teachers was absolutely brilliant.
She also has some exciting news which she hopes to reveal in the next few months which will enable her to get the message to even more school children across the county.
Janine said: "I have spent a lot of time talking and waiting and making sure what I offer fits into what schools need to educate their pupils safely. There is a fine line between educating kids and putting ideas into their heads.
"In the last 18 months I have learnt so much. The more I have delved into it, the more I have realised there isn't the resources out there.
There are just a handful of people like me.
"There's a lot of people who just don't want to talk about drugs but Portsmouth is one of the worst cities in England for drug related deaths. A lot of dealers are selling through social media. It's scary.
"You get a lot of people who say it's their own fault as they knew what they were doing. Georgia thought she knew what she was doing but she didn't have a clue. They all think they are invincible.
"MDMA when it its purest form can be dangerous but it's also a drug that gets mixed with dangerous things. The more people talk about it, the more they can learn."
Full details of the campaign can be found on Facebook via https://www.facebook.com/flos2018/.
For further details on Southern Co-op's community investment programme 'Love Your Neighbourhood', visit www.thesouthernco-operative.co.uk/makingadifference/.