Everyone is invited to visit Alton's newest funeral home
Residents are invited to tackle the taboo of death at the official opening of Alton's newest funeral home.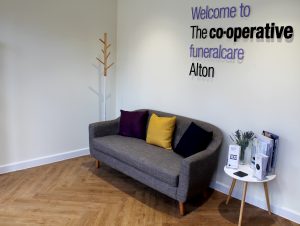 The event will be an unusual mix of charity, cakes and coffins at The Co-operative Funeralcare branch at 71 High Street.
Whether residents are overwhelmed by the idea of funeral planning or simply want to plan ahead, the event is open to everyone on Wednesday 10 July from 3pm to 6pm.
A special donation will also be made to The Vokes Lunch Club which provides a local place for the over 60s in Alton to meet others and have an enjoyable lunch in a safe place.
Funeral Co-ordinators Emma Dulieu and Jane Turk are looking forward to welcoming people into the branch which is part of Southern Co-op – the regional, independent co-operative.
Emma said: "We know first hand how baffling funerals can be. There is a lot to think about – floral tributes, coffins, caskets, memorial masonry, pre-paid funeral plans and lots more.
"Our open event will be a time to celebrate our opening and a chance to support some of our valuable local causes. But it will also give people the opportunity to ask questions in a relaxed environment.
"People will be able to find out about all things funeral-related whilst enjoying some drinks and nibbles."
Guests will also be able to find out how the branch can support the local community through Southern Co-op's community engagement programme. The 'Love Your Neighbourhood' initiative addresses four key social themes for promoting 'Greener', 'Healthier', 'Safer', and 'More Inclusive' neighbourhoods.
For more information, contact The Co-operative Funeralcare in Alton on 01420 85298.