First donations made to Legs4Africa
Thanks to the generosity of bereaved families, two prosthetic legs are on their way to amputees living in some of the poorest countries in the world.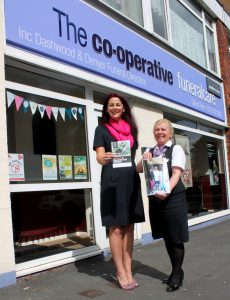 The donations mark the start of a new connection with Southern Co-op's funeral homes in and around Portsmouth and the charity Legs4Africa.
Spearheaded by a funeral co-ordinator in Portsmouth, Jan Saidy became aware of the charity's appeal for support and believed there would be a number of families who would like to help others after the death of their loved one.
Colleagues at The Co-operative Funeralcare branches across the region are now making families aware of the scheme and two prosthetics have already been donated by local families.
Jan, at Southern Co-op's Somerstown branch, said: "We often forget how lucky we are in the UK so it is really humbling to know that there are families who are willing to share such a precious gift.
"Healthcare providers may not accept the prosthetics back so by donating them to Legs4Africa they can be sent to mobility centres in low income African countries where they are used to custom build prosthetic legs."
Approximately 30 percent of the prosthetics given to Legs4Africa come from donations from bereaved families. All donations are made with the explicit consent of each family.
Tom Williams, Founder of Legs4Africa, said: "A leg might just be the best legacy someone could ever leave behind. By donating a prosthetic, you can give someone in another country the chance to get back on their feet and be independent again."
To find out more about Legs4Africa visit www.legs4africa.org.