Glitz and glamour returns to Ryde
With a special opportunity to dine at a four star hotel whilst overlooking a picturesque lake, islanders are being invited to an exclusive charity ball in Ryde.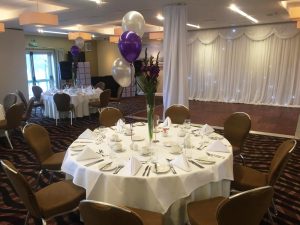 Located in a designated Isle of Wight Area of Outstanding Natural Beauty, guests will get to indulge in a three-course meal featuring some of the very best of Island produce.
Now in its second year, the 2018 charity ball raised just under £1,300 and hosted a array of glamourous guests in ball gowns and black tie.
Tickets have just been released on sale for £38pp for the top-class event being held at The Lakeside Hotel, in Wootton Bridge, on Saturday 7 September 2019 at 6.30pm.
Being organised and sponsored by The Co-operative Funeralcare in Ryde, the event is in aid of The Wight Brainy Bunch.
Kathryn Grimes founded the charity with her husband who was diagnosed with a brain tumour in 2015.
Kathryn said: "There was no support on the Island following his surgery and we found the whole experience very lonely and difficult and wanted to do something to change this for other Island families.
"We now support dozens of families on the Isle of Wight by providing emotional support and financial assistance as they face this awful diagnosis, in the hope that their journey is a little easier.
"We are still a relatively new and small charity and usually rely on arranging our own events to raise funds, so to have such wonderful support from Ryde Co-op Funeralcare this year is incredible."
According to the charity, there are over 102,000 people living with a brain tumour in the UK, with more children and adults under the age of 40 dying of brain tumours than from any other form of cancer.
Sam Walker, Funeral Co-ordinator at the Ryde funeral home, said: "When we first decided to hold a charity ball, we poured our hearts and souls into making it a success. But we could only dream that it would so successful that we would hold it for a second time.
"We had such amazing feedback from last year's event. Guests loved the food, the venue and the opportunity to get glammed up at a really charming location.
"This year there are even more tickets available but they are still limited in order to give the event a more exclusive feel."
The venue is one mile from the nearest ferry with ample free on site parking.
Guests will also be able to take part an auction and a raffle.
The Co-operative Funeralcare, in Ryde, is part of the regional, independent co-operative, Southern Co-op, which supports charities like The Wight Brainy Bunch through its community engagement programme 'Love Your Neighbourhood'.
This initiative addresses four key social themes – promoting 'Greener', 'Healthier', 'Safer', and 'More Inclusive' neighbourhoods.
Tickets to the charity ball are available at the funeral home in St John's Road, by emailing rydefuneral@southerncoops.co.uk or by calling 01983 615746.