More than 14,000 donations made in memory of loved ones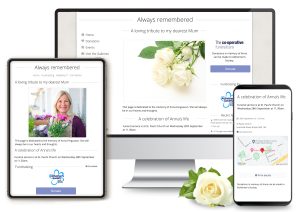 Just under £700,000 was donated to more than 450 charities in 2022 thanks to people donating in memory of their loved ones.
The donations were made via a free online memorials feature offered by more than 60 Southern Co-op funeral care homes.
In the top ten charities which received the largest overall donation last year, three of them were local including Rowans Hospice in Hampshire which had 961 donations totalling £50,853.
Claire McGinty, Client Experience and Aftercare Manager at Southern Co-op, said: "Each and every one of these donations is thanks to an individual who is grieving for a loved one. This is an incredibly generous thing to do and will clearly make a significant difference to all the causes who have benefitted.
"This is possibly even more touching at the moment when a lot of charities are struggling and need all the support they can get. Thank you to all those who donated."
Over the last three years, a total of £2,082,095 was donated by families across the south of England via the free online tribute service offered by Southern Co-op.
Michelle Merrison, Florence Nightingale Hospice Charity's In Memory Giving Manager, said: "We would like to thank everyone who has donated in memory of someone special in 2022. We are always deeply touched when people choose to remember us as they remember and celebrate the life and memories of a loved one and it is an honour to be able to continue to provide our vital services to more families in their names.
"The total received will have covered the equivalent of a month of Day Hospice sessions, providing specialist and individual support to help our patients maintain independence, improve their quality of life and manage their symptoms."
The platform, supplied by MuchLoved, enables donations to any UK registered charity with no subscription fee which means many small charities can receive vital funding thanks to the generosity of your communities choosing to donate in memory of their loved ones.
Ruth Brady, Fundraising Manager for the Andrew Simpson Foundation, said: "The Andrew Simpson Foundation (ASF) was inspired by Olympic Gold and Silver medallist Andrew 'Bart' Simpson MBE. Our mission is to transform lives through sailing. Absolutely everything we do is driven by our belief that all young people can excel and succeed in life and work.
"Thank you to all the incredible people who chose to support our work through MuchLoved. The funds raised through MuchLoved enabled the ASF to support over 5,000 young people in 2022."
Alice Garratt, In Memory & Legacy Fundraiser at Thames Hospice, said: "A dedicated online tribute page can offer great comfort for friends and families to remember and honour a loved one, and fundraising in their memory makes such a difference to support our work.
"We are incredibly grateful to all the families who chose to set up an online tribute page in aid of Thames Hospice last year and a special thanks to Southern Co-op who facilitated tributes which have raised £11,400. This could pay for 253 hours of counselling time, which is six 1 hour sessions for 42 people."
James Young, Individual Giving Fundraiser at St. Michael's Hospice, said: "We want to say thank you to everyone who donated in memory of a loved one and helped raise an incredible £16,764.34 for St. Michael's Hospice.
"These funds will help us provide free compassionate care to our patients and their families across North Hampshire. Thank you so much, we simply can't do what we do without the kindness and generosity of our supporters."
Lara Battersby, Communications Officer for Dorset and Somerset Air Ambulance, said: "We would like to express our sincere thanks to those who have generously donated in memory of their loved ones to Dorset and Somerset Air Ambulance during 2022, raising a total of £604.58 in aid of our life-saving service.
"The charity receives no direct funding from the Government or the National Lottery and relies on the generosity of the public to help raise our operational costs of over £5 million per year, so we are incredibly grateful to receive this heartfelt support."
Alison Taylor, Corporate Fundraising Manager at Chestnut Tree House and St Barnabas Hospices, said: "Thank you so much to all the staff and customers at Southern Co-op who have supported Chestnut Tree House and St Barnabas House throughout 2022. We wouldn't be able to carry on providing the care we do without the support from our community."