New funeral fleet reduces emissions by up to 50%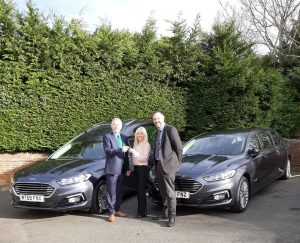 Co-operative colleagues on the Isle of Wight are gearing up for more eco-friendly funerals as two new vehicles will cut carbon emissions in half.
A new hybrid hearse and limousine were delivered to The Co-operative Funeralcare branches on the Isle of Wight at the end of February.
These produce around half of the carbon dioxide emissions of the previous vehicles – 108 grams per km (g/km) compared to 207g/km.
With the hearse expected to travel around 6,500 miles each year (around 10,460km), this could reduce the carbon emissions by 1,035kg annually or by 10 tonnes over the next decade.
The hybrid hearse and limousine also have a regenerative braking system that charges the battery by capturing up to 90 percent of the energy normally lost when braking.
Matt Turner, Regional Operations Manager for Southern Co-op, said: "All of our branches on the Island are part of Southern Co-op and we're committed to being a sustainable business.
"We also want to support families on the Island in the best way possible so we hope this latest upgrade will bring both of these commitments together.
"We're pleased to have added reliable new additions to our fleet which will lower carbon emissions and also look the part – stylish and different, without losing any of the tradition and etiquette."
Southern Co-op is a regional, independent co-operative owned by its 140,000+ members and has more than 50 funeral homes across the south of England.
The new fleet will be used exclusively by the Isle of Wight branches in Lake, Ryde, Newport, East Cowes, Freshwater and Shanklin.