New youth football team scores a winning donation in Bognor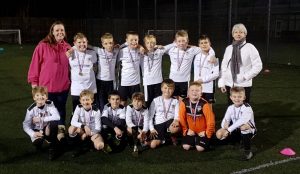 A newly reformed football team have had a double success this season with a new kit and a win at this year's Autumn Cup.
The Predators Football Club in Bognor Regis welcomed a team of 15 youngsters to their fold earlier this year after relocating from Felpham.
The move meant the newly named Predators FC Under 11s White were in need of all new equipment so asked The Co-operative Funeralcare to help.
Colleagues in the North Bersted and Rose Green branches donated a total of £700 which meant the brand new kit arrived in time for Christmas.
Lindsey Booker, Funeral Co-ordinator in Rose Green which is part of Southern Co-op, said: "I have a bit of a vested interest as one of the players is my son but it also means I see first hand how much the team means to them all.
"I think this is an amazing thing to do, to help set up a new youth football team and help enable the children to take part in a sport they love."
The team received a visit from the FA on 26 November and they were presented with a trophy for winning the Autumn Cup.
Head Coach Galvin Wiggins said: "It's been fantastic to have the support of the Southern Co-op.
"They don't just make the boys look smart in their new kits, with the equipment we have been able to buy with the extra funds, it make us able to progress the team to a higher standard. We are thankful for the continued support of the Southern Co-op."
The Under 11s team includes players from across the area including Bognor, Aldwick, Rose Green and Felpham.
Predators Football Club was created back in 1994 with the intention of giving all children the opportunity to play football. The first squad consisted of 13 players but this has since grown to more than 250 players including girls, boys, women and men.
Southern Co-op's community engagement programme 'Love Your Neighbourhood' aims to help communities become greener, healthier, safer and more inclusive. Applications for funding, goods donations and volunteering are welcomed by all local causes.
To find out more about Southern Co-op's commitment to making a difference, visit www.thesouthernco-operative.co.uk/makingadifference/.