Remembrance Day display in Cowplain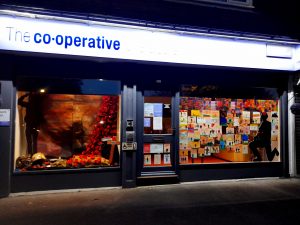 Thanks to the creativity of local school children, artwork is on display in a funeral branch's window to recognise the importance of Remembrance Day.
More than 60 children aged nine and ten helped to draw, colour and craft artwork for the window at The Co-operative Funeralcare – Cowplain.
Funeral Co-ordinators, Jackie Duthie and Lesley Alison, contacted St Peter's Primary School, in Waterlooville, in the hope they would be able to add some meaning to their window for this year's Remembrance Day.
Arts Teacher Nina Pearson was more than happy to get involved and each child in Year Five received an invitation stating they had been commissioned to do a piece of artwork.
Each piece of artwork includes a red poppy and was influenced by the poem In Flanders Fields by John McCrae.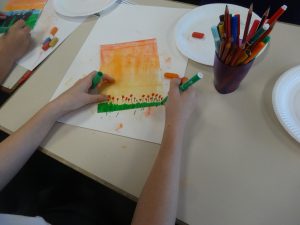 Nina said: "It's important to talk about this commemorative event and our history, otherwise we just get caught up in the current moment. This makes you think about the sacrifices which were made.
"We might think we have a few liberties being taken away from us right now but look at the sacrifices that were made 100 years ago."
The artwork is currently on display in London Road at the funeralcare branch which is part of Southern Co-op – the regional, independent co-operative.
Oil and chalk pastels, pens and colouring pencils were all used in the creation of the display alongside coloured cellophane.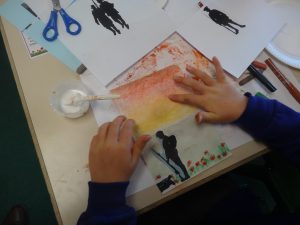 Funeral Co-ordinator Lesley said: "Doing the Remembrance window display is very important to us and we thought it would be lovely for one of our local schools to help us.
"We would like to thank each and every child who took part. They have helped to strengthen the importance of Remembrance Day and we have been really impressed with everything they have created."
Funeral Co-ordinator Jackie said: "We need to keep the younger generation involved as it is very important for them to remember our past, present and future military personnel and what they have sacrificed for us and what they will sacrifice for us in the future. This should never be forgotten and we should always remember them with great pride."
Southern Co-op's colleagues will be marking the important day with a minute's silence including at its local retail stores.