South coast bereavement centre supports thousands of people in 20 years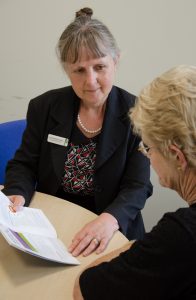 A free bereavement care service is celebrating its 20th anniversary after touching the lives of more than 59,200 people.
The Bereavement Centre, part of the regional co-operative Southern Co-op, was the brainchild of one of its colleagues who worked in its Co-operative Funeralcare services.
After 24 years at Southern Co-op and The Co-operative Funeralcare, Ingrid McAllister-Derry knew there was a need to offer an aftercare service and emotional support for colleagues.
Her boss Steve Pearce, now the Chief Operating Officer for End of Life Services at Southern Co-op, agreed and The Bereavement Centre was launched on May 15 2000.
Ingrid, who is now The Bereavement Manager Care Liaison Officer, said: "It was quite pioneering. I had to learn things as we went along and became a professionally-qualified counsellor.
"We grew the service over the years to offer one-to-one bereavement support for anyone in the community – not just for people who had used our funeral services at The Co-operative Funeralcare. After 11 years, we recruited a bereavement co-ordinator and now have a team of five."
The Bereavement Centre now provides free support for people suffering with grief and loss face-to-face or via online services such as Skype across Hampshire, the Isle of Wight, Sussex and select areas of Berkshire, Dorset, Surrey and Wiltshire.
This has also helped to take some pressure off other local mental health services that have long waiting times.
The team also works with key workers including carers, doctors, nurses and teachers through training sessions to coach them on the practicalities of dealing with a death and loss of any kind. This includes helping medical professionals understand how to help grieving families and give the best bedside manner and support to those suffering.
Steve Pearce said: "Over the past 20 years, Ingrid and her team have supported 24,960 people at their educational sessions and have given wellbeing support to 26,859 people. The help they have provided for people has been invaluable.
"During the current pandemic, the help they have given families and to colleagues has been second-to-none. What was once just an idea, has grown into something that hundreds of people rely on. Thank you Ingrid for everything you and your team have achieved."
In 2004, Ingrid started a friendship group in Portsmouth, which is still running now with around 35 members.
The team now runs nine Wellbeing support groups in Andover, Bognor Regis, Clayton (near Hassocks), Fareham, Farnborough, Frome, Peacehaven, Portsmouth and Sandown.
It also holds additional workshops covering subjects such as anxiety and loss, resilience, multicultural, mental health and mindfulness. For businesses that need something more bespoke, they can create a workshop to suit these needs as well.
During the coronavirus pandemic, the team has been supporting nursing homes and care in the community as well as giving people virtual help during lockdown with telephone support to the bereaved and care professionals.
Ingrid said: "Part of Southern Co-op's values is about giving back to the communities in which we serve. How better can this be demonstrated than by providing a free bereavement service for 20 years?
"We believe passionately about giving something back and have quietly done this for all these years. It's been a real privilege."
To find out more or to get support, call 08081691922, email info@thebereavementcentre.co.uk or visit www.bereavementcentre.co.uk/.