Supported housing gets a spruce-up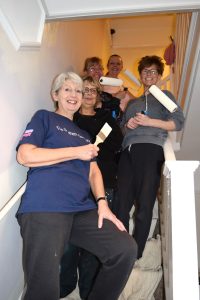 Individuals in Bognor were given the gift of a newly refurbished home in time for the new year thanks to help from some local present-givers.
Volunteers from The Co-operative Funeralcare branches in Rose Green, North Bersted and Felpham swapped their uniforms for less formal attire to help Stonepillow with one of its supported accommodation houses in Bognor.
Stonepillow is a homeless charity for the Chichester and Arun Districts and offers shelter, information and support to homeless and vulnerable individuals.
Amy White, Funeral Co-ordinator at The Co-operative Funeralcare in Chichester Road, North Bersted, said: "It was an incredibly wet and dreary day but it didn't matter because we knew that a bit of elbow grease might give a lift to someone who needed it.
"Our funeral branches are all part of Southern Co-op and we are supported to make a difference to our community through fundraising or volunteering. But it is charities like Stonepillow that are the real heroes.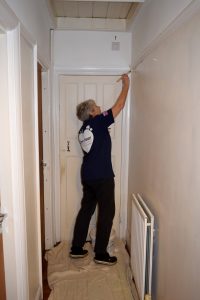 "Stonepillow makes a real impact on the lives of people on their journey out of homelessness. Thank you."
Laura Bulbeck, PR & Events Manager at Stonepillow, said: "Christmas can be an especially difficult time for people who are homeless and we are so grateful for the support we receive from the local community. We would like to say a huge thank you to The Co-operative Funeralcare team for brightening up one of our properties."
To find out more about how you can help visit www.stonepillow.org.uk.
Southern Co-op's community engagement programme 'Love Your Neighbourhood' aims to help communities become greener, healthier, safer and more inclusive.
To find out more about Southern Co-op's commitment to making a difference, visit www.thesouthernco-operative.co.uk/makingadifference/.