Tales of a war veteran to mark Remembrance Day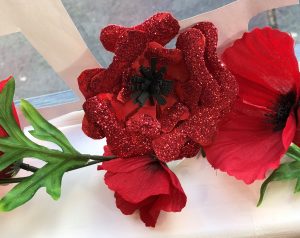 Stories told from father to daughter to granddaughter are to go on public display in Sturminster to mark this year's Remembrance Day.
Gay Wilson, Funeral Co-ordinator at The Co-operative Funeralcare in Sturminster, will be decorating the branch's window ahead of 11 November with the story of her mother and father's Second World War experience taking pride of place.
Remembrance Day 2019 also marks the 101 anniversary of her mum who was born on Armistice Day and was given the middle name of Peace.
Herbert John Ling and Lilian Peace Ling's experience of World War Two was written up decades after the fighting had ended – by Gay's niece as part of a school project.
Gay, who has lived in Sturminster for 21 years, said: "My father always had great true stories to tell us all about the war, some of which we heard a few times, but nevertheless always fascinating to hear.
"This time of year is especially poignant for my family as mum was born on 11.11.1918. She went on to have 11 children starting with my sister who she was pregnant with when my dad joined the army. She was born in 1940."
Pages of her parent's memoirs will go on display in the window of the funeral branch in Station Road with the rest available to read inside.
The account includes memories of her father being on a convoy to Malta carrying ammunition and food supplies. The ship was attacked and one of the holds was hit but thanks to some quick thinking and bags of flour, they were able to get into Valletta harbour safely.
On his last ship, Gay's father recalls the terrifying moments which they were beached off the coast of France just days after D-Day. Lorries were able to unload their supplies but the crew had to wait until the tide came back in before they could get back out to sea.
Gay added: "My father was a hero to me and my family, but we also always remember all of the heroes that fought for us and our Country during both World Wars."
Poppies will be available in branch with all donations going to the Royal British Legion.
Other displays of remembrance will also be on show at Southern Co-op funeral branches across the south.
To find your nearest the branch, click here.