Time for some flippin' good fun in Waterlooville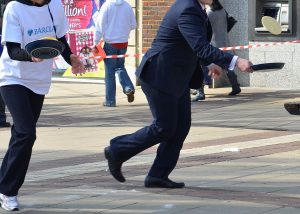 Residents, businesses and shoppers are all invited to take part in this year's annual Waterlooville Pancake Race.
Being organised by The Co-operative Funeralcare – Waterlooville, the event will see participants race up and down the precinct flipping pancakes in frying pans.
The race to cross the line first is done in heats with the overall winner taking home £200 for a charity of their choice.
The event is taking place on 25 February in Waterlooville precinct, PO7 7DT, from 11am.
Ali Davison, Funeral Co-ordinator at The Co-operative Funeralcare – Waterlooville, said: "We are partnering up again with The Waterlooville Events Team to put on the event which we hope will be 'batter' than ever.
"Everyone always has a great time and we get to promote our lovely town centre at the same time.
"The race is done in teams and past events have seen racers dressed up in some very imaginative fancy dress – although this isn't mandatory. We can't wait to see what this year brings."
Last year's winners, Phone Repair Doctors, didn't crack under the pressure and fought off other teams from Motiv8, MMO Accountants, Tillison Consulting and Pink Party Shop.
Phone Repair Doctors donated their winnings to The Rowan's Hospice, in Waterlooville, which provides free care and support to adults who have a life-limiting illness and their families.
The event was previously held by Havant Borough Council until four years ago. After a year's break, it was resurrected by Ali Davison and her colleagues at The Co-operative Funeralcare – Waterlooville who were the reigning champions.
The funeralcare team still competes but Ali promises that it is judged fairly and there is no cheating involved.
To book a place or to find our more, contact 02392 266105 or email waterloovillefuneral@southerncoops.co.uk.