Welcome to Your New funeralcare.co.uk Website!
Hello and welcome to your new look funeralcare.co.uk website from The Southern Co-operative Funeralcare.
We've developed and updated our Southern Co-operative Funeralcare website to provide you with additional services and useful information, guiding you through tough times and difficult decisions in an easy-to-use format.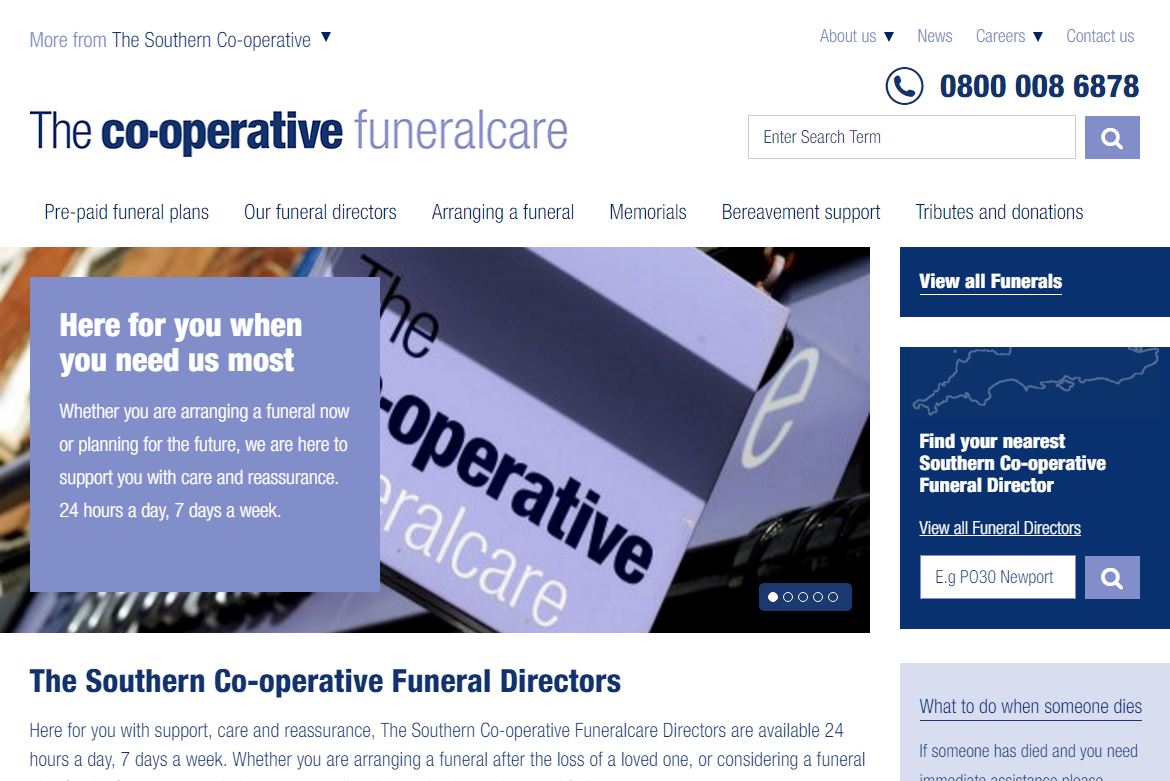 To help you navigate your way around our website's brand new features, we've included some information about several core elements below:
Fresh New Look
Our new website has been designed with you and your needs in mind. funeralcare.co.uk has been brought right up to date with a clean, modern, uncomplicated feel  – providing all of the information you need to know about arranging a funeral, what to do after someone dies and bereavement support easily accessible at the click of a button or tap of a screen.
The Southern Co-operative Funeralcare website is now mobile and tablet responsive, meaning that whether you're viewing on a computer, mobile phone or tablet, the webpage content automatically resizes to conveniently fit your screen size, providing you with the optimum user experience, regardless of device.
Funeral Notice, Tribute and Donation Service
As part of our new website and the services we are able to offer you, we have launched an online personal tribute service – which is completely free of charge to anyone utilising our Funeralcare services!
This poignant online tribute service enables you to share funeral arrangements, for family and friends to share their memories, and the option to collect funeral donations to support the work or thank a charity. On average, personal tribute pages can generate over £1,000 towards local good causes, which is something we're really passionate about at The Southern Co-operative. You can find out more about our dedications to our local communities here (opens in new window).
You can add images, videos and music through a range of remembrance and commemoration sections such as Lifestories, Galleries, Timeline and Candles, helping you to create a truly personal and unique page.
To set up an online tribute page, please speak to your local funeral director who is fully trained and will happily set up a personal page for your loved one.
Funeral Home Locator
We realise that in your time of need, you will need to locate your nearest Southern Co-operative Funeralcare home as easily and quickly as possible – and our new website addresses exactly that. From the home page, or our funeral directors page, you can simply type in your location or postcode to bring up a list and map of your closest funeral homes.
Each listing contains all the vital information you need, including the address, telephone number and funeral home's opening hours. However, if you need a bit more information, each funeral home has its own dedicated page, including location details, a photograph of the outside of the Southern Co-operative Funeralcare home (so you know what the home looks like when you visit), nearby parking details, local crematorium locations and the latest Funeralcare news.
We hope you like the changes to your funeralcare.co.uk website. Don't forget, we're available 24 hours a day, seven days a week, just call us on 0800 008 6878 and we'll be happy to help.